Q4 of 2020 I partnered with KIDSPORTS.  I have been impressed with how during the pandemic they were able to pivot and continue to offer as many services as possible to keep kids and folks moving.  One of the services they offered was a PE class since kids didn't have in person school.  What a great idea!  They have a new facility that has been able to offer more for everyone in our community including space for some adult league play.
A little more about them from their website: "KIDSPORTS is a private non-profit organization in Oregon that provides youth sports programs for pre-K through 12th graders in Eugene/Springfield and surrounding areas. KIDSPORTS teaches children and families the value of physical fitness, sportsmanship, practice and teamwork through sports and activities….All Kids Play is a cornerstone to our organization. Our programs are open to any child who is able to participate regardless of race, religion, creed, sex, ability or financial status."
From their executive director, Bev Smith: "KIDSPORTS has been in our community for over 60 years providing youth sports programs to thousands of kids.  Last year, 14,000 children participated in KIDSPORTS programs and we hope to continue to grow.  As we discussed we will allocate funds to our General Federal Free Lunch scholarship and BIPOC scholarship."  Big shout out to Bev Smith for partnering with us on this!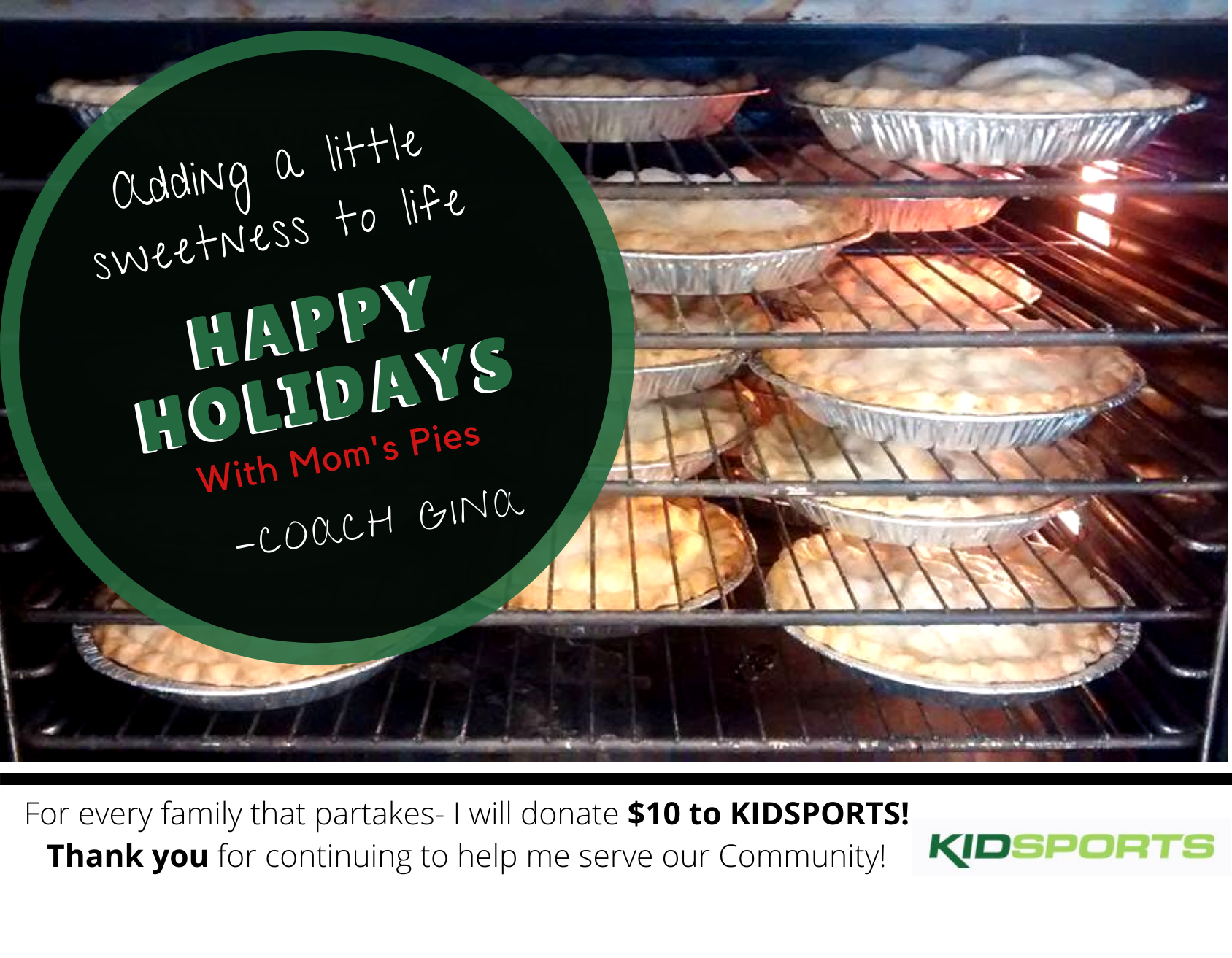 This quarter I did a pie event with my clients.  I partnered with the local pie company – Mom's Pies – which are SOOO delicious.  Shout out to Lou Sangermano, from Mom's Pies, who was great to work with! Check them out at Market of Choice or Dairy Marts in our area. For every family that participated I committed to donate $10.  In addition a couple of families also gave to KIDSPORTS.  In total the donations ended up being $2500!  Thank you to all my clients, business collaborators, and family for supporting KIDSPORTS in our community.  The donation went to their scholarship fund to help more kids be able to participate.  So excited!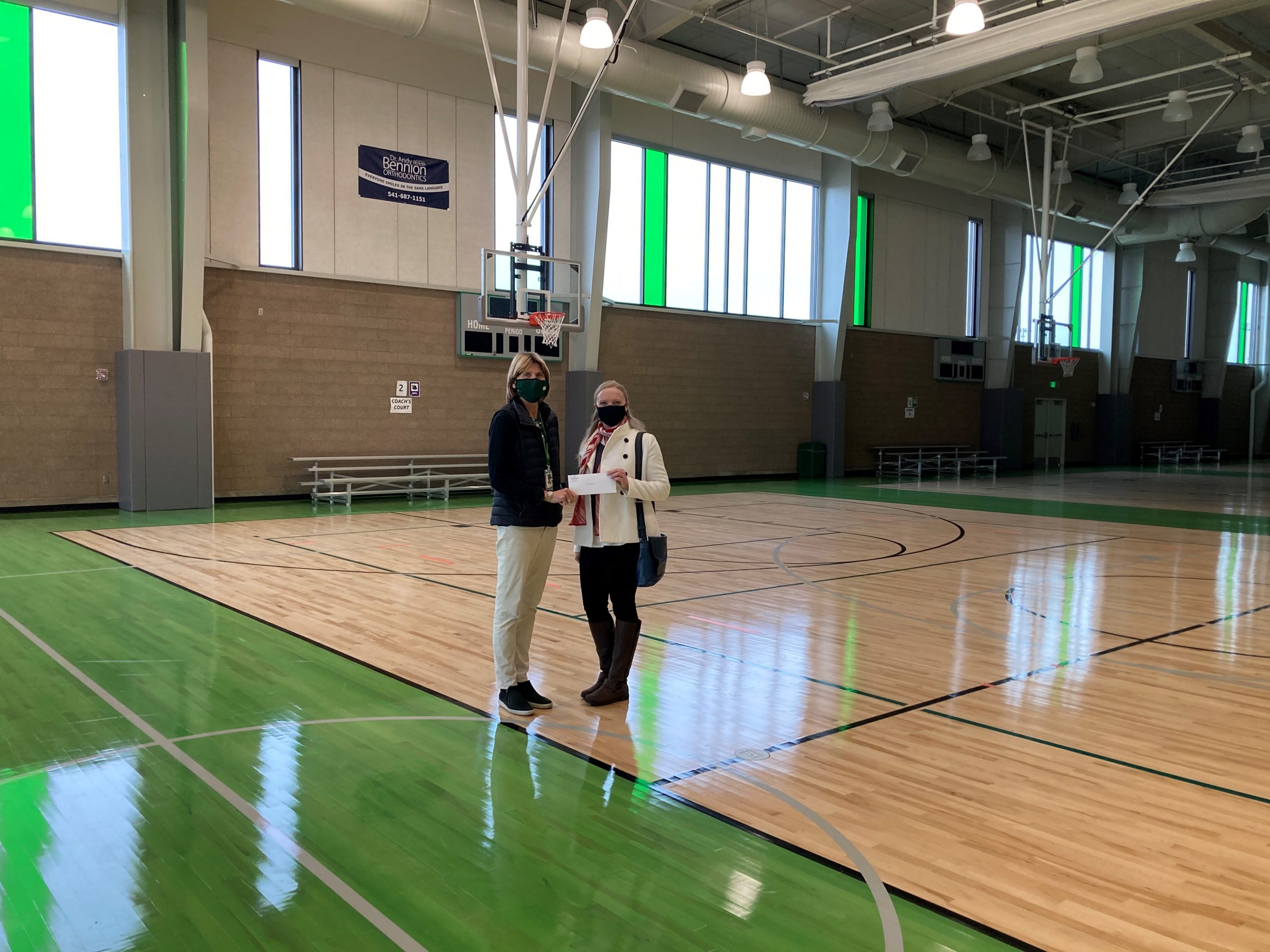 If you are interested in learning more about KIDSPORTS click here.
Interested in signing your kid(s) up?  Check out this page for information on sports and registration.
You can donate anytime!  Click here to find out how.
You can coach or officiate too!  Want to get involved?  Click here to find out about coaching.       Click here to find out about officiating.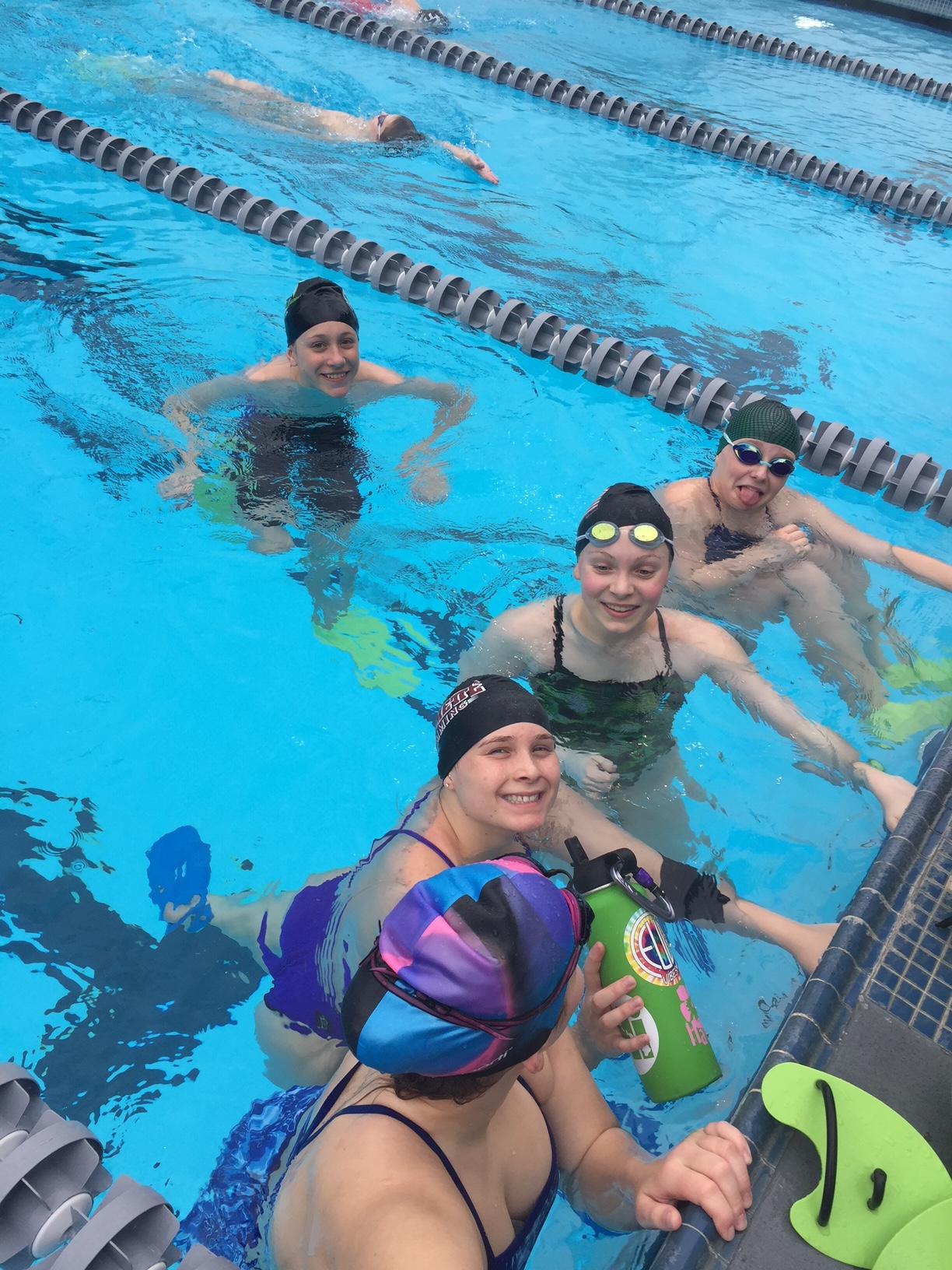 Wow – the first quarter has come and gone.  This year I am donating 5% of each commission to a different non-profit.
I have just done my first quarter give to Emerald Aquatics – www.emeraldaquatics.org.  Check out their website if you want to give to them as well!  Donations help keep the monthly fees down, youth scholarships, and equipment.  They provide swimming for kids and adults and do so while fostering an environment of excellence and personal growth.
This year a new EA award was added.  It's called the "Dhom Character Award" and goes to the swimmer that exemplifies leadership and our weekly themes at swim team and in their daily life.  Some weekly themes examples include Sportsmanship, Teamwork, Winning and Learning, and Integrity.  This year the first award went to Gracie!! I am so proud of the young woman she is becoming!
So excited to have exceeded my GIVE goal for the 1st quarter!  So excited to be able to contribute to the sport of swimming in this way!  Gratitude and a big thank you to everyone who has walked part of this first quarter with me.  You have helped make a difference in these kids' lives!
#happyrealtor #giveproject #coachginarealtor #emeraldaquatics
Feels like Spring here in Eugene! Have you seen the new Roosevelt Middle School Building?
This is the front. It is really coming along! I like the style of the building with the mix of brick and modern touches. Looks like solar panels on the back. I took these pictures on my walk today. Looks really overcast but it was actually fairly warm and I even wore sunglasses! Feels like Spring!
Look how green the grass is!! Feels like Spring :).
Can you see the roof? I believe there are solar panels on there. Cool design! Can't wait to see the finished product.
October is here! 
October always means – leaves are changing, warm drinks abound, and Halloween is coming (scary movies, costumes, and candy!).  It's a fun month that usually brings great weather.
This year – we are seeing a big change coming to all levels of real estate.  TRID requirements are rolling out.  It is the last of the federally mandated changes rolling out because of the crash (Dodd- Frank Wall Street Reform and Consumer Protection Act).  This will affect escrow, lenders, and real estate agents – but ultimately buyers and sellers.
Here's some of the changes as I understand them.  How they play out will varry depending on your agents involved on all levels.
1) This will affect loan apps taken after today.  So if you are currently in a transaction it should not affect you.
2) Standardized Loan Estimate and Closing Disclosure forms.
3) Closing Disclosures to be signed 3 days before closing.
What does this mean for the buyer and seller?
1) If you are looking at buying or selling in the near future: talk with me!  There are things to be aware of and educated about so you can move through this transititon seamlessly!
2)The new forms are CLEAR!  This is a very good thing.  It will be easy to see what you are signing up for (loan) and what your terms are.  It will also make shopping around and comparing lenders easier due to the standardized forms.
3)With the closing disclosures to be signed 3 days before closing there will be an extension to the amount of time a standard loan can close.  We will probably be seeing more 45 day closes.  If there are changes after the closing disclosures are signed they will need to be RE disclosed and another 3 day waiting period.  The intent is to protect the consumer and require lenders and closing officers (escrow) to be VERY accurate.  Change of APR by more than 1/8%, adding a prepay, or a change in loan program will all REQUIRE a redisclose and another 3 day waiting period.
As with any change there will be bumps.  Expect some delays as all of us helping you through your transaction figure out the new regulations.  In the long run this will be a good thing for the industry.
Please don't hesitate to ask if you have questions about this or any other real estate need.  I am here to help!